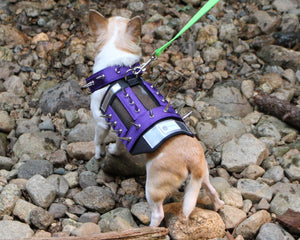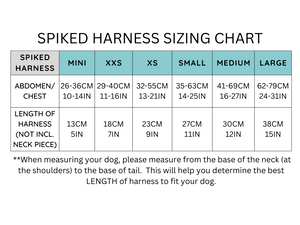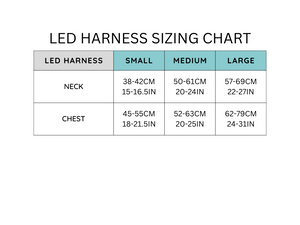 WHO IS OUR SPIKED HARNESS FOR?
Our harness is ideal for small to medium dogs who:
-hike in the woods
-are senior citizens
-are blind or deaf
-are recovering from either a surgery or injury
-are asocial
-live near a wooded area 
HARNESS BENEFITS
Provides dogs with a protective harness used to deter unwanted rough play or aggression, coyotes, birds of prey, and any other predatory animal.
Utilizes a series of hard, hollow, rounded plastic spikes capable of preventing a predator from grabbing a pet with its jaws or claws. 
This harness is very lightweight and breathable despite its appearance.
Spike strips are removable for group play and for easy cleaning of the entire harness.
Includes buckles or Velcro (depending on the size) and adjustable straps to firmly and comfortably secure the harness to the dog.
Your regular leash can be attached to the 'D-ring' at the collar base as any regular harness.
Features a neck-covering shield to further protect the animal while the remainder of the harness protects sensitive areas of the torso.
Offers a simple and convenient tool to keep pets safer from numerous predators while outdoors in any environment.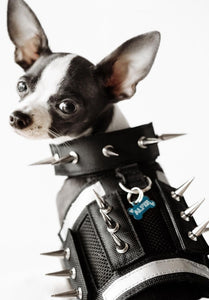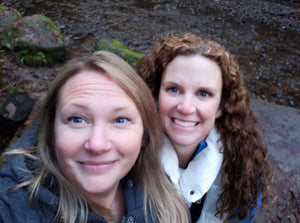 Who we are
The PredatorBWear harness was developed by two Veterinary professionals in North Vancouver BC, Canada.  We have 27 years experience between us and in that time there have been countless dogs who have been under our care with wounds from other dogs, coyotes, birds of prey and even raccoons!  
​PredatorBWear is passionate about helping you protect your beloved dogs while you are hiking in the woods, playing at the park or even while they are in their own backyard! Predator attacks are on the rise as our cities expand into neighbouring forests and wooded areas. It's time we protect our favourite canines and give their owners piece of mind!
Our passion for excellence has driven us from the beginning, and continues to drive us into the future. The team at PredatorBWear knows that every product counts, and strives to make the entire shopping experience as rewarding and fun as possible. 
Testimonials
Daisy couldn't wait to try on and show off her new PredatorBWear harness that she received today!

Jennifer, Victoria BC
Frank's harness arrived today.  Thank you for such a great product and the card was an awesome extra.  I have just put it on him and it fits well.

Laith, Australia
Thanks to my daughter-in-law for the predator protection vest for Sophie and to Alison and Janice of PredatorBWear for creating this awesome product!  Now we can hike the trails a little more safely!

Brenda, North Vancouver BC
I absolutely "love" the protective harness by PredatorBWear! The harness gives me peace of mind that my chihuahua, Kai is safe and not in jeopardy while we are out enjoying a hike or on one of our favorite trails in the Golden Ears. It's not uncommon to come across coyotes and other wildlife where we live. Before finding the PredatorBWear harness I was nervous to venture out too far into nature with my little guy. Now nothing holds Kai and I back from our next adventure! The harness fits comfortably, protects around the neck and the spikes are easy to remove for playtime or when you want to give it a good cleaning. I highly recommend this harness for any outdoor adventurer and their pup! 😊 Thank you

Nicole, Maple Ridge, BC
The ladies at PredatorBWear are amazing to deal with. They answer questions personally and timely. I purchased two harnesses for our small dogs,22lb Lucy and 17lb Angel. The product is extremely well made, very sturdy. The straps and buckles are easily adaptable to the unique sizes of our two dogs. Thankfully they were very patient while I made adjustments. Purchase and delivery was no hassle and I received my products quickly. Thank you PredatorBWear!!! Many Cariboo Adventures in our future.

Andrea, Cariboo BC
Refund/Exchange Policy
If you need to return an item, we're here to help. Please review our policies regarding returns, exchanges, and damaged items. Of course there are 'exceptions to every rule'. Please contact us with any questions. 
Returns: 
There is a 30 day limit to return unused items.
Buyer is responsible for return shipping. Once the item is received, we will issue a refund excluding the value of any shipping charges from the original order. To prevent damage, items should be repacked in the manner in which they arrived.
Exchanges:
In order to keep things simple we do not directly process exchanges. Instead we process a refund from the original order and you can place a new order for the replacement. You may place the order for the new item(s) at any time, and we will ship out your new order as soon as possible. The refund will be processed as soon as we receive the returned item(s) in the mail in original/new condition. Shipping cost is the responsibility of the buyer.             
International Shipping
International shipping is available but be advised that depending on choice of shipping at checkout, the wait times for delivery vary greatly. International ground shipping takes two to three months for delivery.
Legal Disclaimer
PredatorBWear is released from all liabilities and cannot be held responsible for any losses or damages incurred, either directly or indirectly, due to the use of this website, including all media outlets and/or its products.

Your dog's safety is your own responsibility. PredatorBWear is not responsible for how the harness is used. In no event will PredatorBWear be held liable for any injury to either a dog or human from use or misuse of our products. Use at your own risk.

Our protective harness is for intervention only. We cannot guarantee that your dog will not be attacked while wearing the PredatorBWear harness.

PredatorBWear is released from all liabilities if an animal is injured and/or dies from the PredatorBWear product. Use at your own risk.

Our harness is not to be used at dog parks, off leash dog play parks or while playing roughly or enthusiastically with other dogs. We cannot guarantee that there will not be an injury to either dog or human while playing. We are not responsible if this happens.

It is the responsibility of the owner or care taker of the dog to be responsible for their dog while the dog is wearing our harness. Use at your own risk.

We do not recommend using the PredatorBWear harnesses in a dog park setting. Spike strips are removeable.